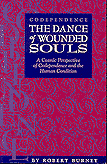 3 copies of Codependence: The Dance of Wounded Soul for the bargain price of $12 each plus shipping save almost $18.00 of retail price
Find the offer here.

If you wish these books signed to someone specific please send me an e-mail telling me the names - joy2meu@silcom.com

Anyone purchasing 3 books will also be sent a bumper sticker.

"The wars outside of us are a reflection of the war within. Humans have been at war within and without for thousands of years. The wars, the violence, the rape of mother Earth that is happening, are all caused by the war within being projected outward.

It is all caused by warring on ourselves. By judging and feeling ashamed of ourselves for being human - and by fighting our own emotional process.

The way to stop the war within is through healing and learning to Love our own inner child/children. The inner child is the gateway to discovering our True Self - to reconnecting with the Great Spirit.

I have wanted for years to print a bumper sticker that says:

"Work for World Peace - Heal your Inner Child"


Because that is the only way it can be done. That is the only way that will work." (Quotations in this color are from
Codependence: The Dance of Wounded Souls)
---
Home

Site Index

Codependence Pages Index

Inner Child Healing Pages Index
---

Codependence: The Dance of Wounded Souls by Robert Burney is copyright 1995. Material on Joy2MeU web site (except where otherwise noted) is copyright 1996 thru 2017 by Robert Burney PO Box 98 Fallbrook CA 92088.