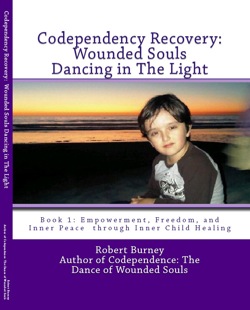 Codependency Recovery: Wounded Souls Dancing in The Light
Book 1 Empowerment, Freedom, and Inner Peace through Inner Child Healing
(aka A Formula for Spiritual Integration and Emotional Balance)
ISBN: 1463740921 ISBN-13: 978-1463740924
Library of Congress Control Number: 2011908389
8 1/2 x 11 Trade Paperback 179 pages
Joy to You & Me Enterprises through CreateSpace
Retail price $27.95 -
special price $20.00
This is a process level - how to - book about the inner child healing approach discovered by Robert in his recovery. The approach to inner child / emotional healing shared within is the missing piece - the missing perspective - of the puzzle of life that so many people have been seeking. It is a formula for integrating intellectual knowledge and spiritual Truth into one's emotional relationship with life. It is the key to learning how to be more Loving to your self - and to turning life into an adventure to be experienced instead of an ordeal of suffering to be endured.

"I am re-reading Codependency Recovery: Wounded Souls, Dancing in The Light. It is the best and my hat is off to you for this enlightening work. In sharing your personal experiences it opens a wealth of self knowledge to me when reading."

"Your books are two of the most important books I have ever read. The advice has been life changing - thank you."

"I just really want to thank you for writing your books on codependency. Most of the time you read books, and think, "Yeah, that makes sense, I SHOULD think that way." Your books do something completely different. You have literally changed the way I think AS I have read your books. It just clicks, flawlessly. I am a completely different person than I was a month ago. Every day I grow and change for the better. Thank you, thank you, a million times."

"I read your book on healing the inner child. The last one (Codependency Recovery: Wounded Souls Dancing in The Light Book 1 Empowerment, Freedom, and Inner Peace through Inner Child Healing.) I've only just come across your work in the last month and I've benefited so much from your wisdom and insight I want to thank you and express my heartfelt (was crying a lot) gratitude that now I feel I'm not a total mystery to myself any more. "